Status and tales from the Cove Point and Canaport LNG plants, Trump back-stage
A major natural gas shortage has developed in the Canadian Maritimes, extending into New England. In the process, Repsol abandoned plans to convert the idle Canaport LNG terminal to an LNG export facility as late as 2016. In quick succession in January 2018, three LNG ships have unloaded cargoes. More inbound ships are on the way, and Boston's Everett LNG terminal has also seen an uptick. This is the first part of our article.
The second part of the article is the imminent startup of Dominion Energy's 5.5 mtpa Cove Point LNG export project (a.k.a. CP13-113, its FERC reference), the first major US export plant after Sabine Pass. The plant was conceived as a vehicle to export Marcellus shale gas to international markets, drawing on the idle existing regasification terminal facilities and multiple upstream pipelines. Yet, the end-of-2017 export startup target has slipped, and suddenly ships have unloaded LNG. Dominion is tight-lipped about status.
This winter has thus far been colder than last year in most of North America (e.g. 28% colder in terms of heating degree days Nov-Jan, at Albany, NY) and has certainly exposed weaknesses in the supply system. On the other hand, Henry Hub natural gas prices have been rock stable at 3 USD/MMBtu throughout.
All in all, the current situations at Canaport and Cove Point highlight an interplay of factors that so often make global market statements completely irrelevant locally. They also highlight the rise of business opportunities and risks from local factors, including possible regulatory changes coming from the Trump administration. These factors must be understood and captured by global LNG players too, and this article presents information and summarizes with timely analysis that should be of interest to energy professionals.
CANAPORT LNG
Shell acquired multiple LNG assets from Repsol in 2013, and as part of the deal, Shell committed to supply "around 0.1 mtpa" of LNG to Repsol's Canaport LNG terminal in Canada over a period of 10 years. This is equivalent to two LNG cargoes of 140,000 cm per year, which is also the minimum level required for LNG cycling to maintain the terminal cold and operational. There are now changes in the delivery and pattern of LNG supply.
The recent LNG cargo unloading dates, January 8, 15 and 21, give a weekly arrival cadence, and indicate a stable regas rate of up to about 450 Bcf/d (i.e. 65% of Cove Point's nameplate liquefaction capacity.) It also appears likely that any preferential pricing terms under Repsol's deal with Shell are now exhausted, and that the terminal now must source further LNG competitively in world markets.
A fourth cargo is now underway, this time not from Trinidad, but from Norway's Melkøya LNG plant at Hammerfest. The extra sailing time from Hammerfest compared to Trinidad and Sabine Pass is only 2 days. Since Melkøya LNG is largely based on merchant operations, the price terms for supply to Canaport are likely to be at the world level, and not linked to Henry Hub.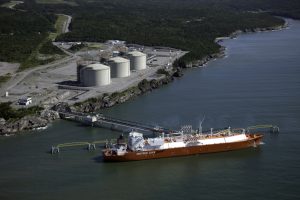 The Canaport LNG terminal has rapidly become a key supply resource, just like the Everett LNG terminal in Boston, Massachusetts has been for years. The seasonal importance of Canaport in particular has now grown significantly because of the declines at Sable Island (now also involving well plugging), and the delays in adding capacity in the reverse direction on the Maritimes & Northeast Pipeline.
Spectra's 342,000 Dth/d (340 Bcf/d) Algonquin Incremental Market (AIM) pipeline project was completed in early 2017, designed to bring additional Marcellus shale gas north to Boston and replace supply declines from Canada. It has not prevented natural gas price hikes this winter. Gas from Canada via the Portland Natural Gas Transmission System interconnect at Westbrook, Maine, has also not been sufficient for market supply-demand balancing via the Maritimes & Northeast Pipeline between Goldboro and Boston.
The lack of Sable Island gas is therefore a critical problem for customers in the Canada's Maritimes, and highlights the consequences of delays in completing reinforcement projects farther south.
An important part of resolving the current supply deficit is the incomplete 450 mUSD Atlantic Bridge pipeline project. It will add 132,700 Dth/d (132 Bcf/d) capacity on the Algonquin pipeline to Boston, and further add reverse flow capability to the Maritimes & Northeast Pipeline into Canada. The pipeline continues from the new Weymouth compressor station, south of Quincy, into the Boston Bay, past the idle offshore Neptune LNG and Northeast Gateway PNG jetties, before connecting to the M&NP onshore.
While the U.S. Federal Energy Regulatory Commission permit is in place, a required Massachusetts state permit under the U.S. Coastal Zone Management Act, for the new Weymouth compressor station, is still outstanding. This is due to persistent local opposition in the affected municipalities (Quincy and Weymouth.)
While the AIM project relieved some of the shortfall in the Boston area, this winter has demonstrated insufficient gas availability. As a result, winter bidweek natural gas prices have been above 20 USD/MMBtu and remain above 10 USD/MMBtu at the beginning of February 2018. North of Boston, marginal gas values are significantly higher, highlighting the structural importance of the well-placed Canaport LNG import terminal.
While the Maritimes and New England may not enjoy Sable Gas benefits in the future, the "unconstrained" case suggests a balance gas price of 4-5 USD/MMBtu at Canaport, based on Marcellus gas of 2-3 USD/MMBtu.
Instead, the bidweek gas price of around 10 USD/MMBtu now link the Northeast US and Canada's Maritimes to the global LNG market and marginal Asian LNG prices, the Japan-Korea price marker specifically. Uncommitted Atlantic-basin LNG cargoes therefore find US and Canada East coast more attractive than Asian destinations. Not only is the Arctic Discoverer on its way from Norway, the Gasely is currently moored off Boston with a cargo reloaded at Grain LNG, from Yamal LNG.
COVE POINT LNG
The Cove Point regasification plant has had a long and tumultous history, with the latest expansion effectively killed by shale gas in 2011. The export plant was conceived as a vehicle to take local Marcellus shale gas to international markets, drawing on the existing regasification terminal facilities and pipeline. (Repsol abandoned similar plans for Canaport in 2016, seeing cascades of supply problems and obstacles.)
Being only 250 km from the Marcellus gas sources, with access to developed infrastructure and being less exposed to project permitting problems, the Cove Point export project is in many ways a dream project. Upstream infrastructure reconfigurations are now being commissioned as planned, with three new pipeline interconnects to the Cove Point pipeline (Transco, Tennessee/Columbia and Dominion). The introduction of commissioning gas to the plant was authorized by FERC in November 2017.
There has been a substantial amount of industry speculation recently about when the liquefaction plant would actually start. Strangely, the Cove Point received ships on December 14 and January 15 with LNG from Nigeria and Trinidad, respectively. In both cases, the shipper/supplier was Shell. Dominion Energy has stated that it has contracted with Shell to market commissioning cargoes, but has not given details or linkages to the cargoes received. Interestingly, industry observers do not have a common understanding or explanation for the transactions, but Cove Point LNG has never been easy to understand, being subject to several Natural Gas Act access regimes.
Among possible explanations for the two LNG cargo unloadings is that they are part of a swap arrangement. It could also be related to legacy regulated Operational Flow Order (OFO) requirements to maintain the plant cold, where Shell has commitments a regas capacity holder. Dominion is a pure owner and has no liquefaction or regasification capacity.
There is a long history of conflict on equal treatment between Dominion and the different regasification capacity holders, and it is also not inconceivable that Dominion's arrangement with Shell may have opened a Pandora's Box of issues. For example, the regas capacity holders have been required to provide occasional LNG cargoes at prices linked to Henry Hub irrespective of better sales opportunities in the global market.
The recent ship movements have complicated the assessment of the likely startup time of the liquefaction plant, originally indicated to take place by the end of 2017. Dominion Energy has subsequently been quite non-communicative. Confusingly, commissioning gas (from TCO) started flowing in November, reaching 120 Bcf/d and more, but appear to have been offset by "recycled" gas from the Cove Point plant.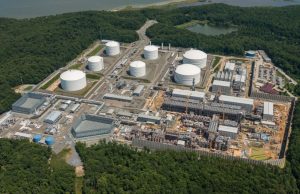 Contrary to Sabine Pass LNG, where the old regas plant is presently unlicensed, the dual or triple-mode regulatory operational status of Cove Point LNG complicates flow accounting. However, live integrated daily flow accounting with storage balances of Cove Point LNG is now an active feature in the iGIS/LNG system.
An important milestone was just reached as the large two new ground flares were lit by January 21 (bottom left in the picture, lighting identified and validated by iGIS/LNG.) The operation of flares is a standard procedure before compressor start and the introduction of natural gas into the LNG train. While Dominion Energy has previously statued that is has successfully conducted component-wise testing of installations, ground-flare ignition now appears to signal the startup of full process testing and subsequent commissioning. If no unexpected events are experienced, Eikland Energy expect that a commissioning LNG cargo could be available by the end of March 2018.
There are many requirements before ultimate acceptance and hand-over to Dominion Energy. While several recent LNG plant commissioning time periods have given substantial LNG output, there is also no assurance of cargo availability or likely destination. It is a key question if LNG cargoes will remain in the Atlantic LNG market or be brought to the ultimate markets of the principal buyers Gail (2.3 mtpa) and Sumitomo (3.1 mtpa), with Sumitomo having onsold, back-to-back to Tokyo Gas (1.4 mtpa) and Kansai Electric (0.8 mtpa.)
All of these companies have sought to increase flexibility in the offtake chains for their Cove Point LNG commitments, i.a. by entering into cooperation with European players and/or traders. Gail has, unsuccessfully, also sought renegotiation of contract terms, and appear set to draw on cooperation with both Shell and independent traders. Sumitomo, Tokyo Gas and Kansai Electric have received four new-built ships, and should be better placed to receive LNG and optimize cargo destinations.
CLOSE, BUT DIFFERENT, WITH TRUMP BACK-STAGE
The recent LNG cargoes into Cove Point and Canaport expose a wealth of complex and interrelated issues. These dynamics give hints to understanding important competitive dynamics ahead, both for the near and medium term.
– Looking a year or two ahead, new infrastructure is likely to have removed the main congestions and supply constraints north to New York and Connecticut, but not much farther.
– The Trump administration's initiative to lift restrictions on coastal oil and gas exploration has consequences for states' rights under the U.S. Coastal Zone Management Act (e.g. via the Act's "consistency provision", presidential overrule authority, as well as the government's right to repeal the Act entirely.) Directly or indirectly, a resolution of NIMBY ("Not In My Back Yard") blocks to New England pipeline projects are therefore legally possible.
– The gas market situation into New England and the Maritimes in the near term is likely to remain volatile and uncertain, with a strong possibility of increased dependence on LNG.
– Other LNG export schemes from Eastern Canada, those that are not directly connected to TransCanada pipelines and Alberta gas, face a general risk of missing a second wave of LNG project developments.
– Paradoxically, until the Atlantic Bridge pipeline project is realized, the best netback and incremental market for Cove Point LNG may be the Canaport terminal. The plants are close, yet so far apart.
These observations highlight that commercial players cannot assume that markets are always streamlined and predictable.  The problems with the Weymouth compressor station also highlight that business delays, risks and opportunities may be related to seemingly trivial issues.  Portfolio flexibility and agility will continue to be the key success factors for companies; thinking globally, acting locally.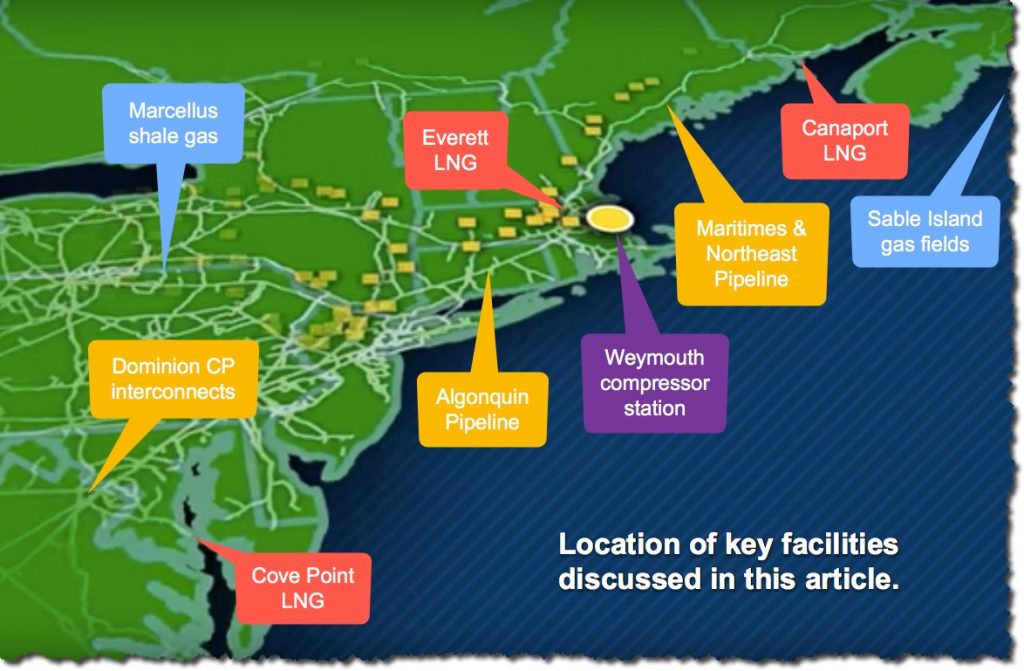 For further information about the issues discussed in this article, email Eikland Energy AS at contact@eiklandenergy.com, or contact lead author Kjell Eikland directly by calling tel. +47-99517555.

Please provide full source attribution when referring to this article, whether in full or in part.